DONATE OR START A FUNDRAISER
Northside Hospital Cancer Institute
Miracle Babies Program
H.E.A.R.T Strings


H.E.A.R.T.strings Brings Grace and Hope to the Andersons
In 2014, Shameka and Jerrell Anderson were a young, newly married couple pregnant with their first child, a daughter. This pregnancy was particularly special to Jerrell Anderson and his parents. Jerrell is the youngest of three children, and was the first to get married and pregnant out of all his siblings.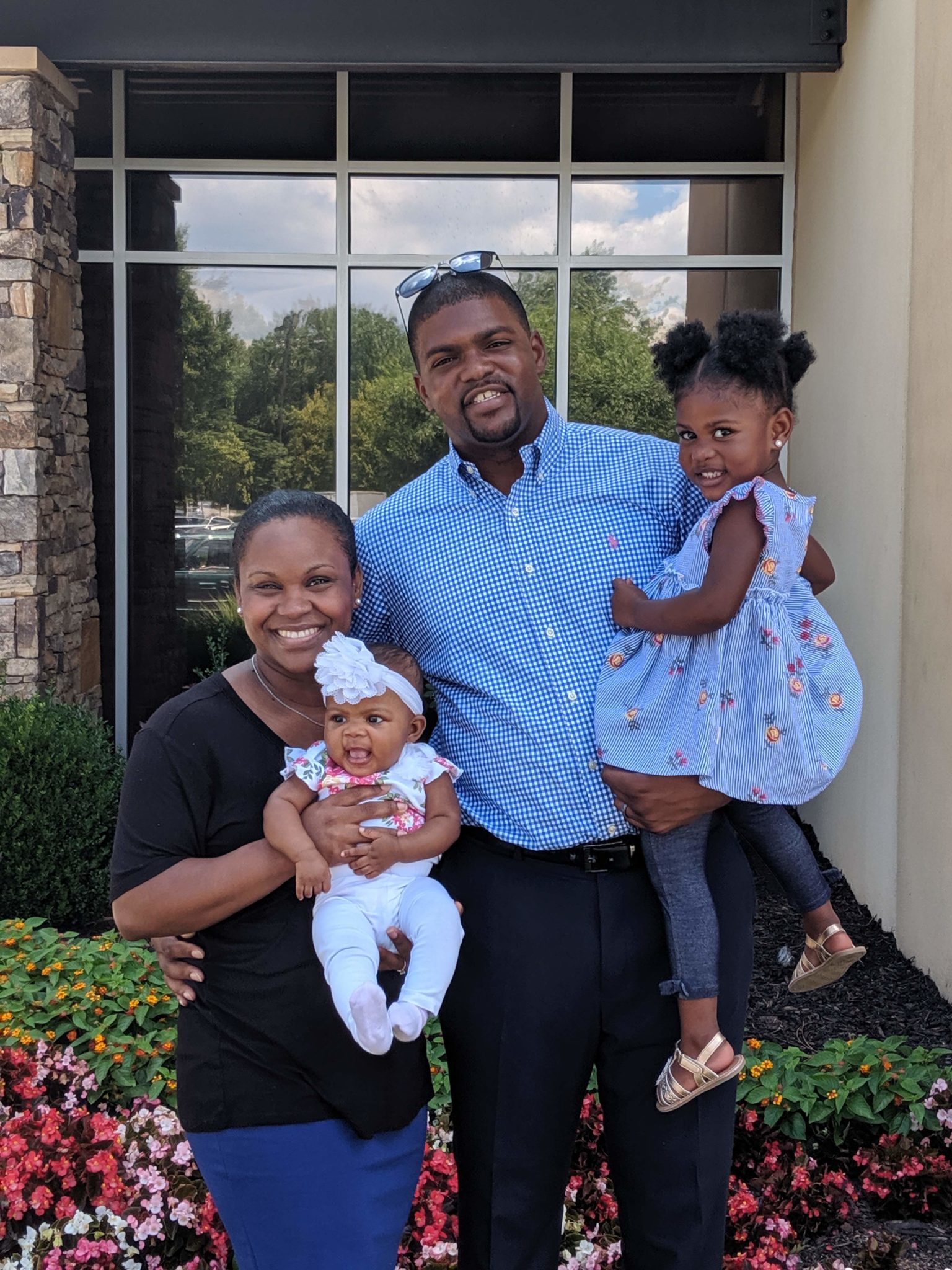 On Tuesday, Sept. 30, 2014, the day of Shameka's due date, she visited her obstetrician at a private practice; she had carried her daughter to full 40 weeks. And during her preparation for labor and delivery, she learned her daughter had no heartbeat.
Her obstetrician recommended that she birth Malea, her daughter, naturally, and sent her to Northside Hospital Atlanta, where he had practice privileges. On Thursday, Oct. 2, 2014, Malea was delivered, and this prompted Anderson's relationship with H.E.A.R.T.strings.
"My husband and I were very hurt," Shameka described. "I was emotionally and physically exhausted, and so was my husband. Then, Melissa Petersen from H.E.A.R.T.strings entered our room; she was a breath of fresh air. She introduced herself, and gifted us with a baby casket that was donated by another family. This gesture was very kind and helpful because we were in no state to think about burial services, and the fees would have come out of our pockets."
A week later, on Thursday, Oct. 9, 2014, Malea was laid to rest in a ceremony at a location that overlooked the Atlanta skyline.
After delivering Malea, the Andersons kept in touch with Melissa. They joined the H.E.A.R.T.strings mailing list, and attended their first memorial ceremony at Northside Hospital that following May of 2015.
"Our first walk with H.E.A.R.T.strings wasn't until October 2017," Shameka explained. "I knew the first Walk to Remember was going to be extremely emotional for us, and I wasn't going to have the strength to participate until I had my rainbow baby, Kyla, by my side."
A rainbow baby is the child that is born after an infant loss. Kyla is now three years old, and the big sister to Kara, her 10 months old baby sister.
"After Malea, Jerrell and I wanted to name our children with names that had strong meanings to represent the blessing and success of these pregnancies," Shameka said. "Kyla means victory, and her middle name is Grace. Kara means pure, and her middle name is Hope. We were extra purposeful with naming Kyla because she was our second pregnancy and our victory by the grace of God."
Ever since attending their first Walk to Remember, the Andersons have been very active participants in this event, and Shameka became part of the planning committee in 2019. A part of Shameka's desire to give back stems from her current position as a Companion Peer Mentor, a resource H.E.A.R.T.strings offers to mothers and their families.
"My husband and I want to share our story, and encourage other families to share their stories. By sharing stories, we can provide solace and inclusivity to each other," Shameka exclaimed. "Jerrell and I are committed advocates of prenatal loss and mental health, and we want to help in any capacity to the women and families because this happens more often than we think, and it affects everyone and not just the women. We want to make sure families have the support to get through their losses, and that they have resources to commemorate their infants in a joyful way."
Through their activism, the Andersons hope in the near future that October is recognized as Pregnancy and Infant Loss Awareness Month as much as it's recognized as Breast Cancer and Domestic Violence Awareness Month.
"We think of Malea as our small joy and the catalyst for my siblings' pregnancies," Jerrell said. "After Malea was delivered, my siblings all got pregnant and had children back-to-back-to-back. My parents currently have five grandchildren! And now, we want to be the catalyst for increasing awareness about H.E.A.R.T.strings and bringing different organizations together to serve families in our community."
The H.E.A.R.T.strings Perinatal Bereavement Program at Northside Hospital supports families who have suffered the death of a baby and loss of a pregnancy at any gestation. Many services provided by H.E.A.R.T.strings such as support groups and events are also open to the community.