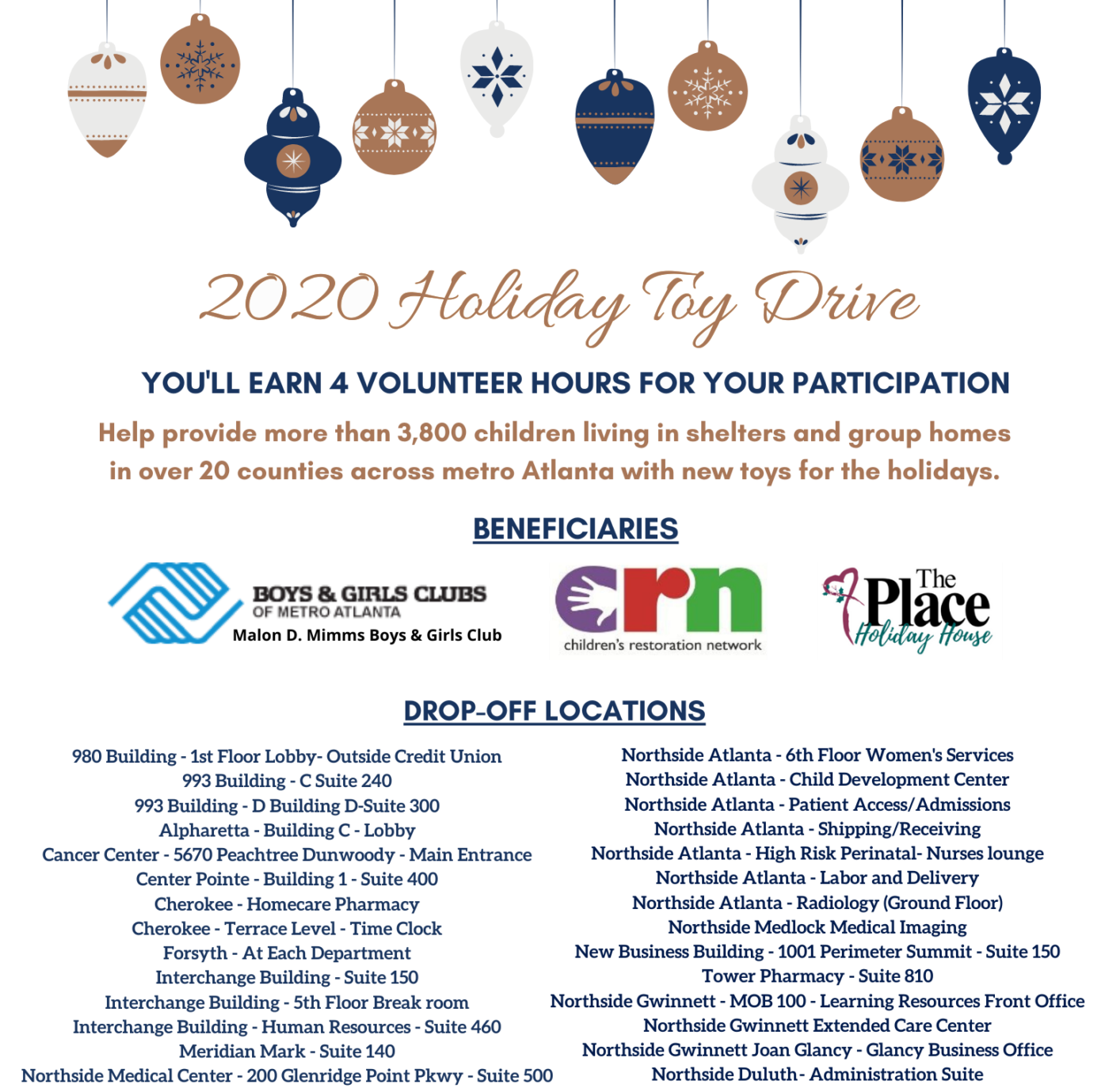 All donations from Northside Forsyth will benefit The Place of Forsyth County - Holiday House. Each department at Forsyth will be assigned an age group, appropriate wish list, and a drop-off box. Along with the wish-list, employees can also donate gift cards. Gift cards should be hand delivered and not placed in the boxes. For further questions and assistance, please contact Margaret Reese at (678) 234 - 5195. Deadline for donations is Sunday, Dec. 6, 2020. 
All donations from Northside Atlanta, Northside Duluth, and Northside Gwinnett will benefit Children's Restoration Network (CRN). If you'd like to make a physical donation at one of the drop-off locations, please donate the following items (must be new & unwrapped): stuffed animals, fleece blankets, sports balls, board games or educational toys for all ages, push/pull/riding toys, Bluetooth speakers, Kindle Fire Amazon 7 Tablets. If you'd like to make a monetary donation or shop from CRN's Amazon Wish List, please visit here. Deadline for in-person donations is Monday, Dec. 7, 2020. Deadline for the online donations is Monday, Dec. 14, 2020. 
All donations from Northside Cherokee will benefit Malon D. Mimms Boys and Girls Club. To make a donation, please go online and shop from the Amazon Wish List here. There also will be a gift card tree at the Homecare Pharmacy that you can donate to, which will be for children ages 12 and up at the club. Please complete all purchases by Saturday, Dec. 12, 2020.