Tennis Against Breast Cancer
Thank You for Your Continued Support!

NEW THIS YEAR:
We're excited to add Pickleball Round-Robins (women & men) at one location on each date. Please invite your pickleball friends to join us this year!
We're also excited about our new and improved registration/fundraising website. We've also added new fundraising "milestones" or online badges for individual and team fundraising [self-donation in any amount; each individual's goal is $250 raised (10 friends donating $25 = $250 will help provide 2 screening mammograms for 2 women in our community; additional milestone levels are in increments of $125 raised)]. Let us know what you think!
Donation Form: https://bit.ly/2lyFxa9
Raffle Items Donation Form: https://bit.ly/2k6qzrw
View/Download 2019 TABC Flyer in PDF: https://bit.ly/2kBANAh
View/ Download 2019 Pickleball Only Flyer in PDF: https://bit.ly/2lUCXv5
Please note: All fees are non-refundable. Fees go up Sept. 1st.


SCHEDULE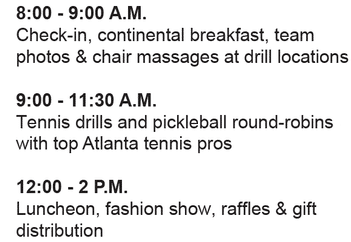 Lunch: Cherokee Conference Center
BridgeMill Athletic Club (Tennis & Pickleball)
Cherokee Tennis Center
Woodmont Club
Lunch: Forsyth Conference Center at Lanier Tech.
Fowler Park (Pickleball ONLY – Indoor Courts)
Olde Atlanta Club
Polo Club
Windermere Club
Windward Lake Club
Lunch: Atlanta Athletic Club
Atlanta Athletic Club (Tennis & Pickleball)
Country Club of the South
The Standard Club
We're serving up hope!
With a combined attendance of over 1,200 ladies across multiple events, TABC is an incredible month-long fundraiser for Northside Hospital Breast Care Program. This event helps save lives by funding mammograms and transportation to under-insured women in our community. Last year, this event helped provide over 2,000 mammograms for under-insured women in our community, and 27 breast cancers were detected. Those in need of a free screening mammogram can call 770.667.4400.
What's Involved?
Each TABC event begins with continental breakfast, tennis drills and pickleball round-robins with pros at local athletic clubs and culminates with a luncheon featuring a fashion show, raffles, gifts and more. During the luncheon, one of Northside's premiere physicians discusses the latest research and treatment for breast cancer. Events are held annually at the Atlanta Athletic Club, as well as at various other clubs in Forsyth and Cherokee.
How Much Does It Cost?
Registration fees vary by date and drills location. TABC events are sold by tennis teams (10 tennis players per court) or individual Pickleball players (4 PB players per court). Team captains identify their drill location preference during registration, and are assigned based on a first-come-first-serve basis and availability of courts. Players are also encouraged to participate by self-donating and by encouraging friends and family through email and social media to donate on their individual "Personal Fundraising" TABC page. Top fundraisers win early-bird registration for next year and other great incentives (see below).
---
Individual Fundraising Incentives:
Win one movie ticket for every $125 raised*
Raise $600+, win early-bird registration for TABC 2020*
Raise $1,500+, win one free registration for TABC 2020 at the location/date of your choice!*
*Amount raised does not include registration fee
Sponsorship Opportunities: Contact 770.667.4483
Click the links below to view pictures from Last Year's TABC 2018:
Click here for pictures from October 5 – Forsyth
Click here for pictures from October 19 – N. Fulton
Click here for pictures from October 26 – Cherokee