Laura Neidhardt, an Outstanding Northside Employee
At the start of last year, a new role in the Northside Hospital NICU was developed to address and support the needs of the families: the Parent Liaison. These wonderful employees come alongside the nurses that are caring for little ones requiring complex care and give support to the families. The Parent Liaison serves to meet and greet families in a meaningful way and help with communication upon admission to the NICU. At their heart is consistency in relationships that stay with a family from NICU admission until graduation.
One Parent Liaison, Laura Neidhardt, has worked at Northside Atlanta in different nursing roles for 35 years. "I'm living the dream!" she says, "I get to work with superheroes every day." Laura has been dreaming of a role at Northside to help parents for around ten years. "The fact that I get to live it now is such an answered prayer," she comments.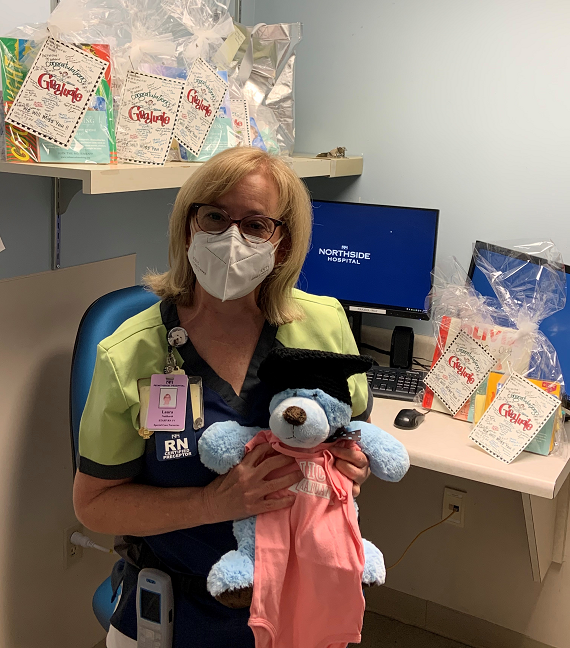 "With COVID in particular, it's difficult for our parents to get the support they need. There's several of us who do this role, and that gives us the ability to support and build relationships with the parents during their journey in the NICU, no matter how long it may be." Laura says.
Additionally, she hosts a support group for NICU parents, which is currently virtual. "I have never had a child in the NICU," Laura says, "so I can't relate to everything a family is going through. They need other families to relate with them so they can feel like they're not alone in this."
Many families experience massive grief while having a child in the NICU. This is where the support of people like Laura come in, to assure families that they are doing everything they can for their child and to guide them through the grieving process. "With not being able to have a lot of family in the NICU during the past year, we are their families now, and we are here to assist them with anything they need."
Laura loves being a part of these families' journey in the NICU. "I get to see them from admission to graduation," she recalls, "and I get to see how much the child and the parents grow during their time in the NICU. I love watching the parents grow in confidence while taking care of their child, and seeing them in their NICU grad shirts and graduation caps."
In addition to her service to the parents in the NICU, Laura also donates to Miracle Babies through Northside's Employee Giving Campaign. "Even before I started this role, I have seen families in the NICU who don't have enough FMLA or places to stay. During this time, it's so important for parents to spend this time together, which they can't do if they don't have enough money. I give so that they have the opportunity to be together."
Laura is an amazing asset to Northside's NICU. "I feel like this is my mission. I am blessed beyond belief!"
Links:
Northside Hospital Employee Giving Campaign