Buy a Light. Share a Light. Change Lives.
At Northside Hospital we believe all babies are Miracle Babies, but some miracles just need a little extra help. During our #lightsforgood campaign, we are inviting our Partners in Education schools to join us in bringing hope to those babies and their families. 
Your students, teachers, and staff are invited to participate in two ways:
1. Donate $1 and decorate a coloring sheet through our Kids Helping Kids program. Light up your school for good by displaying the decorated sheets in your classroom or hallways.
2.  Participate in our online #lightsforgood campaign by donating or starting a fundraiser in celebration, support, remembrance, or honor of a loved one, brave patient or someone who has had an impact on their life.
Kids Helping Kids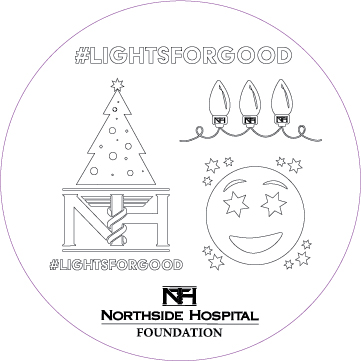 Through the Kids Helping Kids program, students give to hope parents visiting their preemie babies while they are in the hospital by:
Donating $1 to receive a #lightsforgood coloring sheet
Decorating their #lightsforgood coloring sheet
Displaying their creations in their classroom or school to show their support for Miracle Babies
Make a donation or start a fundraiser to support Miracle Babies and their families
How To Get Started
Contact Melissa Brown at Melissa.Brown@northside.com or 770.667.4483 to request coloring sheets to sell at your school. 

Sell #lightsforgood coloring sheets at your school until Monday, December 18.

Total the donations and write one check

to: Northside Hospital Foundation

Mail checks by Monday, December 18.
Attn: Student COL, 3400-C Old Milton Parkway, Suite 170, Alpharetta, GA 30005.

Win Prizes!

The classroom or club that raises the most money at your school will win a pizza party! *Your school must raise a minimum of $500 to be eligible.

Schools will keep the decorated coloring sheets to display around the school and show how you support Northside's Miracle Babies.

Show us how you light up your school for good by sending us pictures of the decorated coloring sheets your class made! Email your photos to Melissa.Brown@northside.com.