Northside Employee Decorates Cubicle for Cancer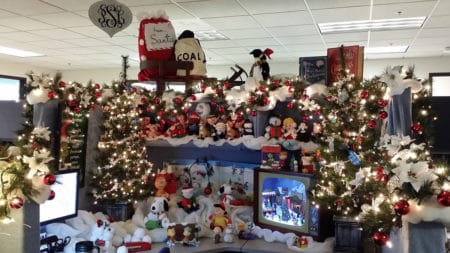 Over the last few years, David S. Spangrude, an applications analyst at Northside, has been decorating his workspace for the holidays with the things that brought him joy as a child – animated Christmas specials. It started with "A Charlie Brown Christmas" and has grown to include "Frosty the Snowman", "How the Grinch Stole Christmas", "Santa Claus is Comin' to Town", "Rudolph the Red-nosed Reindeer" and "A Year Without a Santa Claus".
After hearing about the Northside Hospital Foundation's #lightsforgood campaign in Northside Life, David realized that he had the opportunity to spread Christmas cheer while also impacting other people's lives by starting a fundraiser for the Northside Hospital Cancer Institute. Both of David's parents have been affected by cancer, which is the inspiration behind the fundraiser's name and his choice to support the Cancer Institute.
"I get the awesome privilege of seeing teammates and passers-by lighting up with surprise at my Christmas oasis, and directly experiencing the spirit of the holiday season uplifting them," said David.
David invites everyone to participate by either joining his fundraising team or by making a donation.
"Whatever holiday tradition you observe, I wish you a very healthy and happy one, and thank you from the bottom of my heart to each and every supporter," said David.
We also welcome you to participate in #lightsforgood by starting your own fundraiser or making a donation to Miracle Babies, Perinatal Bereavement (H.E.A.R.T.strings), Northside Hospital Cancer Institute or the Area of Greatest Need.