Northside Hospital Atlanta Completes New Eight-Story Patient Tower
Northside Hospital has completed the first major expansion of its Atlanta campus in more than a decade with the opening of a new eight-story patient tower.
The new 84-bed East Tower expands the hospital's inpatient capacity from 537 to 621 and included more beds for pulmonary/thoracic, oncology, blood and marrow transplant and medical/surgical patients. This is the first major construction project on Northside's Atlanta campus since the expansion of the Women's Center in 2007.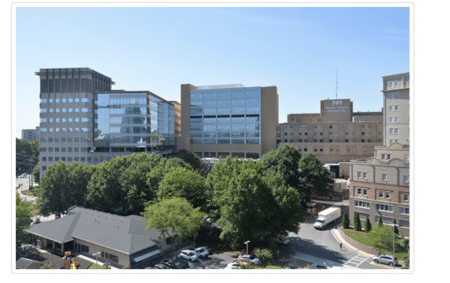 "Northside Hospital continues to see strong growth across many of our services and this project was very important for us to continue effectively and efficiently meet the health care demand in this area," said Director of Facilities Planning Steve Aslinger, "We're so honored that so many patients are choosing Northside for their health care."
Northside opened the new patient tower on a staggered timeline, beginning Feb.12. The building's main entrance and motor lobby opened last on June 11 and feature several art installations from local artists. The crown jewel is a 2,000 square-foot mural by Atlanta artist Ryan Coleman that surrounds a cement column in the center of the tower's motor lobby.
The mural and additional art were provided by donations made to the Northside Hospital Foundation in memory of Lynn Teague, a past Northside cancer patient.
The mural incorporates the golden color of sunflowers, Lynn's favorite flower, and photos of sunflowers also are installed in the building. Lynn's family hopes the "virtual garden" will create a calm, serene and inspiring place of rest for patients and their families away from the patient's room.
In addition to the new patient tower, Northside is expanding, renovating and reconfiguring some of the clinical and ancillary services( Food Services, Surgery, Labor & Delivery and Critical Care) within the existing hospital building. That work is expected to be completed in 2019.
About Northside Hospital (www.northside.com)
The Northside Hospital healthcare system is one of Georgia's leading healthcare providers with more than 150 locations across the state, including three acute care, state-of-the-art hospitals in Atlanta, Cherokee County and Forsyth County. Northside leads the U.S. in newborn deliveries and is among the state's top providers of cancer care and surgical services. Northside has more than 2,800 physicians and 15,000 employees who serve 3 million patient visits across a full range of medical services.
Original article posted on June 21, 2018 here