Northside Hospital Cherokee enters agreement with Fannin Regional Hospital to offer inpatient maternity services
Blue Ridge, GA- Northside Hospital Cherokee is expanding its presence in Fannin County with the opening of an OB/GYN physician practice on the campus of Fannin Regional Hospital.
North Georgia OB/GYN Specialists and Drs. Angela Falany and Michael Hulse began seeing patients May 17 at their new office in the Burns Professional Building, 2855 Old Hwy 5, Suite 110, in Blue Ridge.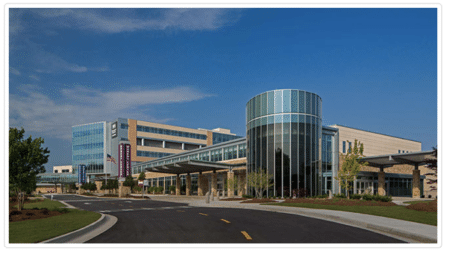 The move comes in response to Fannin Regional's "difficult decision" to discontinue offering inpatient labor and delivery services, as of April 10, 2018.
In a March 19 letter to patients from Appalachian Physicians Group, the sole OB provider in Fannin County, CEO David Sanders said, "we are pleased to announce our affiliation with Northside Hospital Cherokee and North Georgia OB/GYN Specialists to meet obstetrics and gynecological needs of our patients."
Women who are scheduled to deliver will be redirected to other area facilities. Women who arrive at Fannin Regional Hospital in labor will be transferred by ambulance or EMS helicopter to Northside Hospital Cherokee in Canton.
"At Northside Hospital Cherokee, we are committed to providing the highest level of care and support for all mothers and newborns," said Billy Hayes, CEO, Northside Hospital Cherokee, "The skill and expertise within our beautiful, new Women's Center in Canton is the same that built Northside's nationally acclaimed Center in Atlanta.
More babies are born at Northside Hospital's Women's Center in Atlanta than any other hospital in the United States.
For more information about the Women's Center at Northside Hospital Cherokee, visit www.northside.com/Cherokee-Womens-Center
For more information about the physicians and services of North Georgia OB/GYN Specialists, visit http://www.northgaobgyn.com/
For more information about the services available at Fannin Regional Hospital, visit www.fanninregionalhospital.com
About Northside Hospital (www.northside.com)
The Northside Hospital healthcare system is one of Georgia's leading healthcare providers with more than 150 locations across the state, including three acute care, state-of-the-art hospitals in Atlanta, Cherokee County and Forsyth County. Northside Hospital leads the U.S. in newborn deliveries and is among the state's top providers of cancer care and surgical services. Northside has more than 2,800 physicians and 15,000 employees who serve 3 million patient visits across a full range of medical services.
Original article posted on May 15, 2018 here