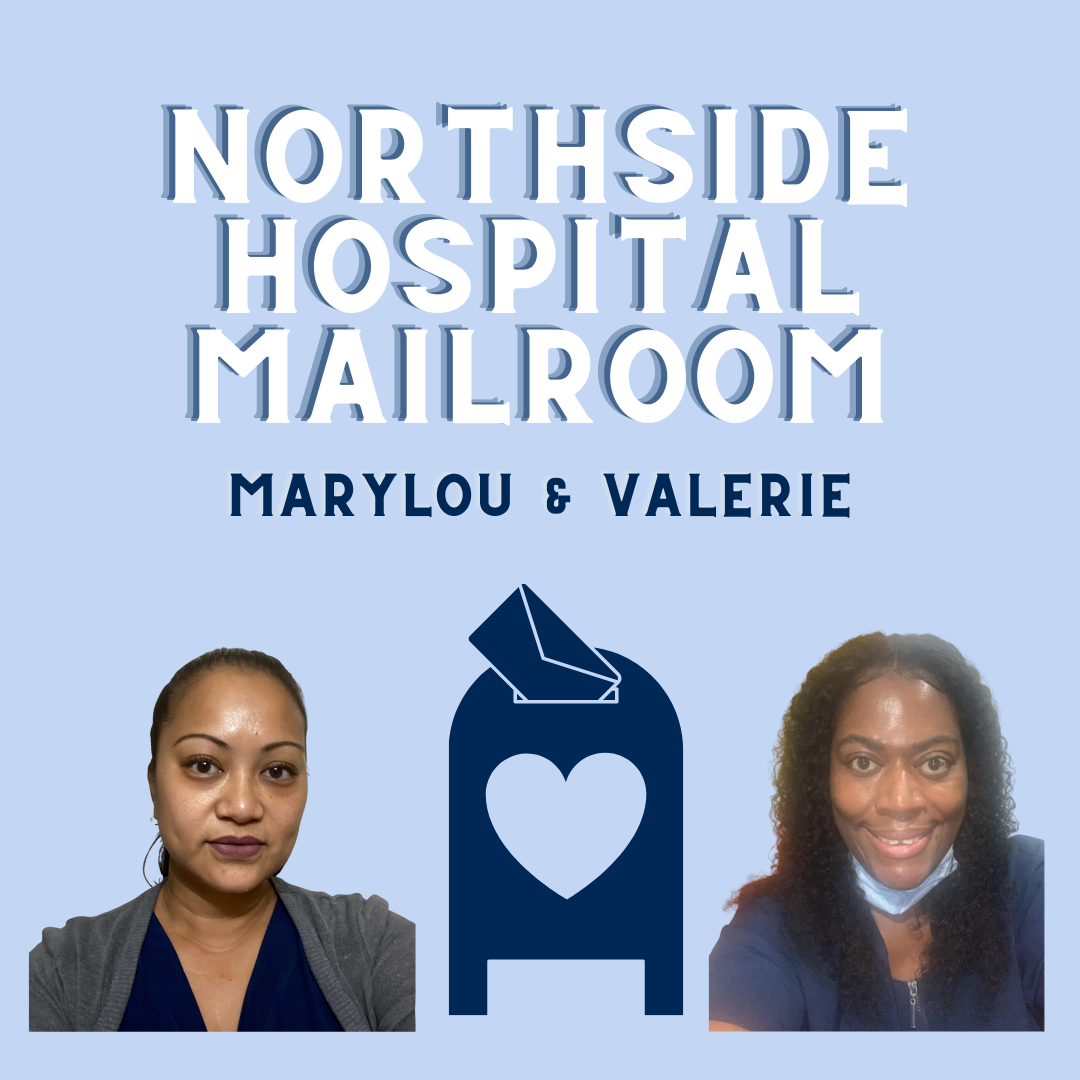 Our Northside Hospital Mailroom Heroes
Like most workplaces, Northside Hospital relies on an efficient mailroom. However, being a multi-campus hospital makes this goal much more difficult. Marylou Wells has worked in the Northside Mailroom for the past three years running inter-office mail to all of Northside's locations.
Marylou greatly enjoys her role in the mailroom. "I get to interact with a lot of different people. Unfortunately, people don't have the opportunity to come in the mailroom as much as they used to due to the pandemic, and I really miss that."
Marylou and Valerie Taylor coordinate couriers to deliver mail to each location, and all mail running through Northside's several locations passes through the two of them.
Marylou and Valerie are also avid Northside Hospital Foundation event volunteers. "Our commitment to Northside doesn't end with our jobs," stated Marylou.  "We also feel a responsibility to help out in the community and volunteer with the Northside Hospital Community Connection as much as we can."
"These ladies that run the mailroom and their couriers are a mission critical part of our Northside Hospital Foundation team," said Volunteer and Community Service Coordinator, Ann Dickinson.  "They have their hands on many of the major activities we do throughout the year, including our Northside Hospital Community Connection Collection Drives as well as our Employee Giving Campaign."
Northside Hospital has more than 24,000 employees. "It's very important to me that all of the mail is delivered correctly," stated Marylou. Marylou and Valerie understand more than most how vital their job is to Northside's efficiency, so they go out of their way to ensure correct delivery.
When asked what she wanted new employees to know, Marylou stated, "I love that people at Northside know that I am always there for them. I am the person to go to, and anything they need, I can get it done."
Especially in times like these, it is nice to have some things in life that one can rely on, and at Northside Hospital, we are incredibly grateful for Marylou and Valerie and the work they do to keep the Northside mailroom running at its highest level.
As Valerie says, "our mailroom may be small, but we are big at heart!"