Northside partners on new mobile app to help cancer patients learn about treatment options
Meet Linda. She is a five-year triple-negative breast cancer (TNBC) survivor and is here to give advice to women diagnosed with TNBC. About 10 percent of women with breast cancer are diagnosed with TNBC, and African-American women are three-times more likely to have it.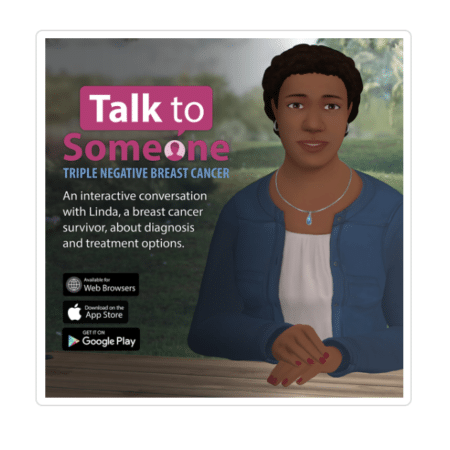 TNBC grows quickly and is harder to treat than other types of breast cancer. That's why our cancer experts worked with the National Association of Chronic Disease Directors, the Centers for Disease Control and Kognito to develop a brand new mobile app that helps newly diagnosed breast cancer patients learn about their treatment options.
"Talk to Someone: Triple Negative Breast Cancer" is an interactive and state-of-the-art tool that was developed using artificial intelligence engineering to deliver a computer-animated conversational simulation tool. The app features an avatar character named Linda, who is a triple negative breast cancer survivor and allows newly diagnosed patients to explore thousands of different conversational pathways.
Users lead the conversation by posing their questions about TNBC, chemotherapy, life during treatment, and survivorship to Linda. Cancer diagnosis is often overwhelming and confusing and can generate a flood of questions, concerns and anxiety. This tool allows patients to spend time asking the computer questions they may not have time to ask their own physician or caregiver. The objectives of the conversation are for patients to better understand their diagnosis, the advantages of chemotherapy and to know what to expect from treatment in order to raise motivation to pursue chemotherapy.
For more information or to download the app, visit: https://simulations.kognito.com/tnbc/
About Northside Hospital (www.northside.com)
The Northside Hospital healthcare system is one of Georgia's leading healthcare providers with more than 150 locations across the state, including three acute care, state-of-the-art hospitals in Atlanta, Cherokee County and Forsyth County. Northside leads the U.S. in newborn deliveries and is among the state's top providers of cancer care and surgical services. Northside has more than 2,800 physicians and 15,000 employees who serve 3 million patient visits across a full range of medical services.
Original article posted on July 24, 2018 HERE.