Polo Peaches Raise More Than $10k for Northside Hospital's Breast Care Programs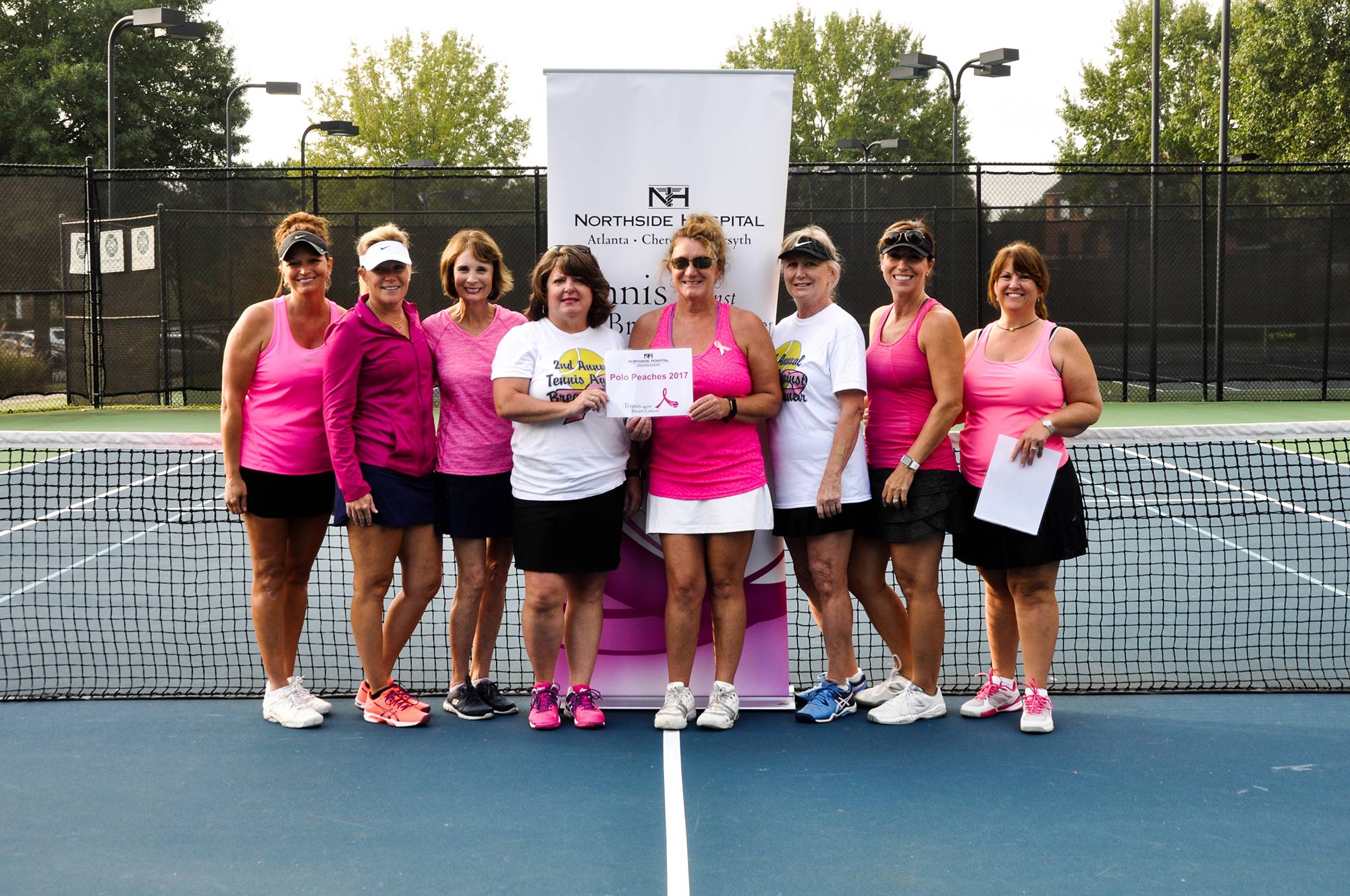 In an effort to fundraise for their Tennis Against Breast Cancer Team, the Polo Peaches hosted the Second Annual Polo Ladies TABC event on September 23, 2017. The Polo Peaches surpassed their goal of $10,000 by raising a grand total of $10,230 for Tennis Against Breast Cancer benefiting Northside Hospital's Breast Care Program.
The event consisted of approximately 2 hours of round-robin format tennis with 55 participants, both men, and women. Plenty of food and beverages were donated by local restaurants, and Polo residents, both attendees and non-attendees alike, set up sponsorship tables throughout the courts. The event ended with over 50 amazing raffle items for lucky winners.
We want to give a special thank you to team captain Chas O'Connor and team member Kathleen Littleton from the Polo Peaches, who raised a combined total of $10,155 of the money the team raised for the Breast Care Programs at Northside Hospital.
"Overall it was an amazing event, and we're happy to have raised this much for a great cause," said Chas O'Connor, team captain of the Polo Peaches. "This event could not have happened if not for the Polo Tennis Instructors; Tennis Director Arturo Nieto, Head pros, John Brunner and Katy Sceney!"
So how did they do it, you ask?
With a better head start than year one, the Polo Peaches contacted sponsors, big and small. Donations poured in and kept coming! Polo resident, Elaine Hayward with Absolutely Specialties, Inc. donated not only her time but amazing event items such as large, tennis bag goody bags and tee shirts that were distributed to participants.
The 10 member team is made up of Chas O'Connor, Kathleen Littleton, Maria Seibert, Beanie Prados, Judy Bennett, Mary Casey, Betsy Cooper, Suzy Drummond, Madison O'Connor, and Tara Toplisek. We would also like to recognize Alison Kim and Abigail Roth, and Elaine Hayward who played an integral part in our fundraising and was involved from day one of our planning!
Thank you to everyone who participated in Tennis Against Breast Cancer this year.  We are happy to announce that we have raised over $230,000 for Northside Hospital's Breast Care Fund so far!
It is not too late to donate and make a difference in the lives of those women right here in our community who may not be able to afford breast care.
About Tennis Against Breast Cancer
With a combined attendance of more than over 1,200 ladies across multiple events, TABC is an incredible month-long fundraiser for the Northside Hospital Breast Care Program. This event helps save lives by funding mammograms and other services to under-insured women in our community.
Because of the fundraising from Tennis Against Breast Cancer in 2016, the Northside Hospital Foundation was able to provide more than 1,546 mammograms to underinsured women in the community. Of those women who received mammograms, 17 breast cancers were discovered.