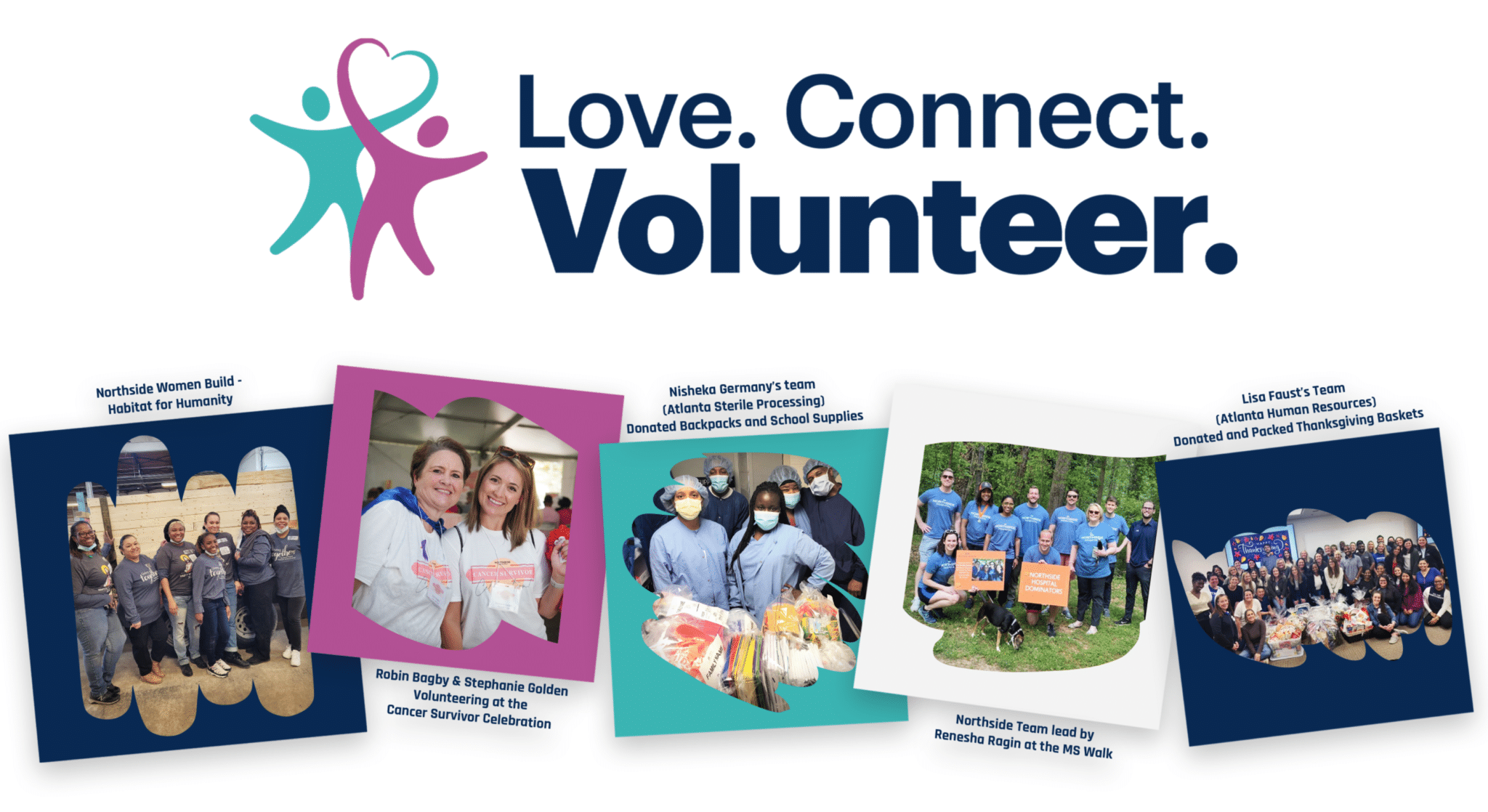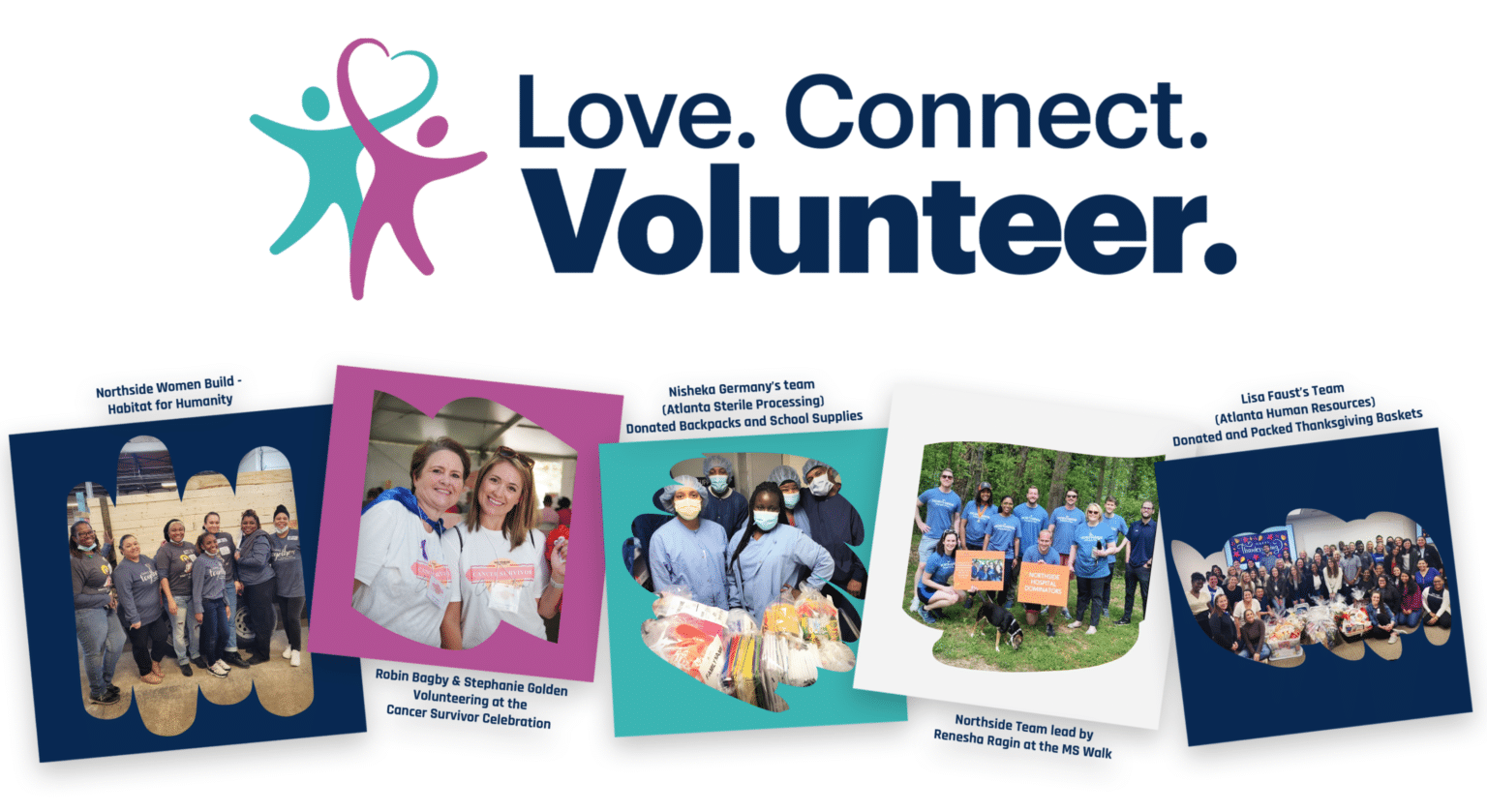 Northside Hospital promotes and encourages community volunteerism among its physicians, employees, auxilians and their families and friends. Each year, our staff and physicians volunteer their time, talents, and resources to make a positive impact and build strong and healthy communities. We invite you to join us!
Click on the volunteer links below for more info and to sign-up today!
Current and Ongoing Opportunities:
Spin For Kids - Rutledge (10/1)
Spin For Kids relies on volunteers to help with check-in, rest stops, cheering riders across the finish line, and more! Volunteers must be at least 16 years old for most tasks, but families with younger children are encouraged to volunteer for our finish line cheering squad! All volunteers will receive a volunteer t-shirt and are invited to stick around for a fun day of activities, music, food, and fun! Click the link above to sign up!
Truly Living Well (10/5) - (25 VOLUNTEERS NEEDED)
The heart and soul of TLW are the volunteers. The farm offers everyone a chance to give back to their community and make a difference. Volunteers work in teams to assist with basic farm chores, such as mulching pathways, turning and weeding garden beds, sifting soil, and working the compost. Individuals and small groups make a tremendous impact on the farm. While engaging in a group volunteer opportunity, group communication and general rapport is improved, while being outdoors reduces stress and makes for an enjoyable experience.
Playtown Suwanee (10/6-10/9)
10/6-10/9: PlayTown Suwanee is all about community! This is a 100% volunteer built playground! We are building an amazing playground for a new generation. PlayTown will be the result of over 10,000 hours from 1000+ volunteers. This is a ONCE IN A LIFTEIME event - you'll make lifelong memories, new friends, and a lasting gift to the community.
Playtown Suwanee Community Build (10/9 -10/16)
Susan G. Komen More than Pink Walk Volunteer (10/21)
Community Assistance Center Food Pantry
North Fulton Community Charities
Open Hand - Meal Packing and Delivery
Community Assistance Center - Roswell Rd.
Community Assistance Center - South Sandy Springs
Humanity First USA Duluth Food Pantry
American Red Cross Atlanta - Midtown Blood Donation Center - Sponsor Code: 30324
American Red Cross - Northside Hospital Forsyth - Sponsor Code: nsfh
American Red Cross - Duluth Blood Donation Center - Sponsor Code: 30097

Walks:
2023 Greater Atlanta Heart Walk - American Heart Association (9/30)
Use the drop-down menu to select a Northside campus/department and join a team.
Paint Gwinnett Pink Walk (10/14)
Select "Joining a Team", then "Northside Hospital" from the drop-down menu.
Susan G. Komen More than Pink Walk (10/21)
Ways to Get Involved
Walks – Awareness and fundraising walks held throughout the year include: March of Dimes (Babies), Relay for Life (Cancer), Race for the Cure (Breast Cancer), Light the Night (Leukemia), Heart Walk, Arthritis Walk and the Alzheimer's Walk.
Drives – An ongoing opportunity to donate to those in the community who are in need. Drives collect donations for blood, food, cell phones, school supplies, children's books, personal care items and clothing.
Community Partnership Projects – Some of the many projects offered include mentoring, adopting a shelter, feeding the homeless, assisting at community events, and playing bingo with seniors.
Employee Giving Campaign – Annually, Northside Hospital Employees generously donate to improve the lives of patients, fellow employees and the local community by donating to the Northside Hospital Foundation, Shares Help Employee/Retiree Emergency Relief Fund, Gwinnett Medical Center Foundation, and the United Way.
Find Volunteer Opportunities in the Community
You can find many volunteer opportunities online at JustServe, Hands on Atlanta, and Volunteer Match.  There are also opportunities to volunteer at Northside's Month of Service, Northside Foundation events, and Northside sponsored events. These opportunities are promoted in the Northside internal newsletter, Northside Life.