VOLUNTEER APPRECIATION PROGRAM
On behalf of the Northside Hospital Healthcare System, thank you to all of our volunteers for your willingness to give your time and talents to help make our communities stronger and healthier.
Each April during Volunteer Appreciation Month, we recognize your volunteerism in the community.
In 2022, 1,900 volunteers donated over 13,000 hours of their time to community service projects in the hospital's service areas through our Northside Hospital Community Connection – Employee Volunteer Program.
HOW IT WORKS:
2023 Volunteer Appreciation gifts are distributed for 2022 volunteer hours.
Your volunteer hours are tracked by the Foundation Department in our volunteer database.
Each April during Volunteer Appreciation Month, we recognize your volunteerism in the community for the previous calendar year.

GUIDELINES
Employees and their family & friends are eligible for the Volunteer Appreciation Program.

Volunteers must track hours online at

give.northside.com/volunteer-hours

.

Hours are earned by volunteering at any opportunity in the community. We encourage you to volunteer with the organizations that you are most passionate about. You can find many volunteer opportunities online at JustServe, Hands on Atlanta, and Volunteer Match. There are also opportunities to volunteer at Northside's Month of Service, Northside Foundation events, and Northside sponsored events. These opportunities are promoted in the Northside internal newsletter, Northside Life.


Gifts are distributed based on the total volunteer hours accumulated during the calendar year. For example, in April of 2023, you will receive a gift based on your volunteerism between January 1 - December 31, 2022.




Volunteers must respond to an email from Northside Hospital Community Connection regarding their volunteer gift in order to claim their prize. There will be a deadline to respond to the email.
---
2023 Volunteer Incentive program - LEVELS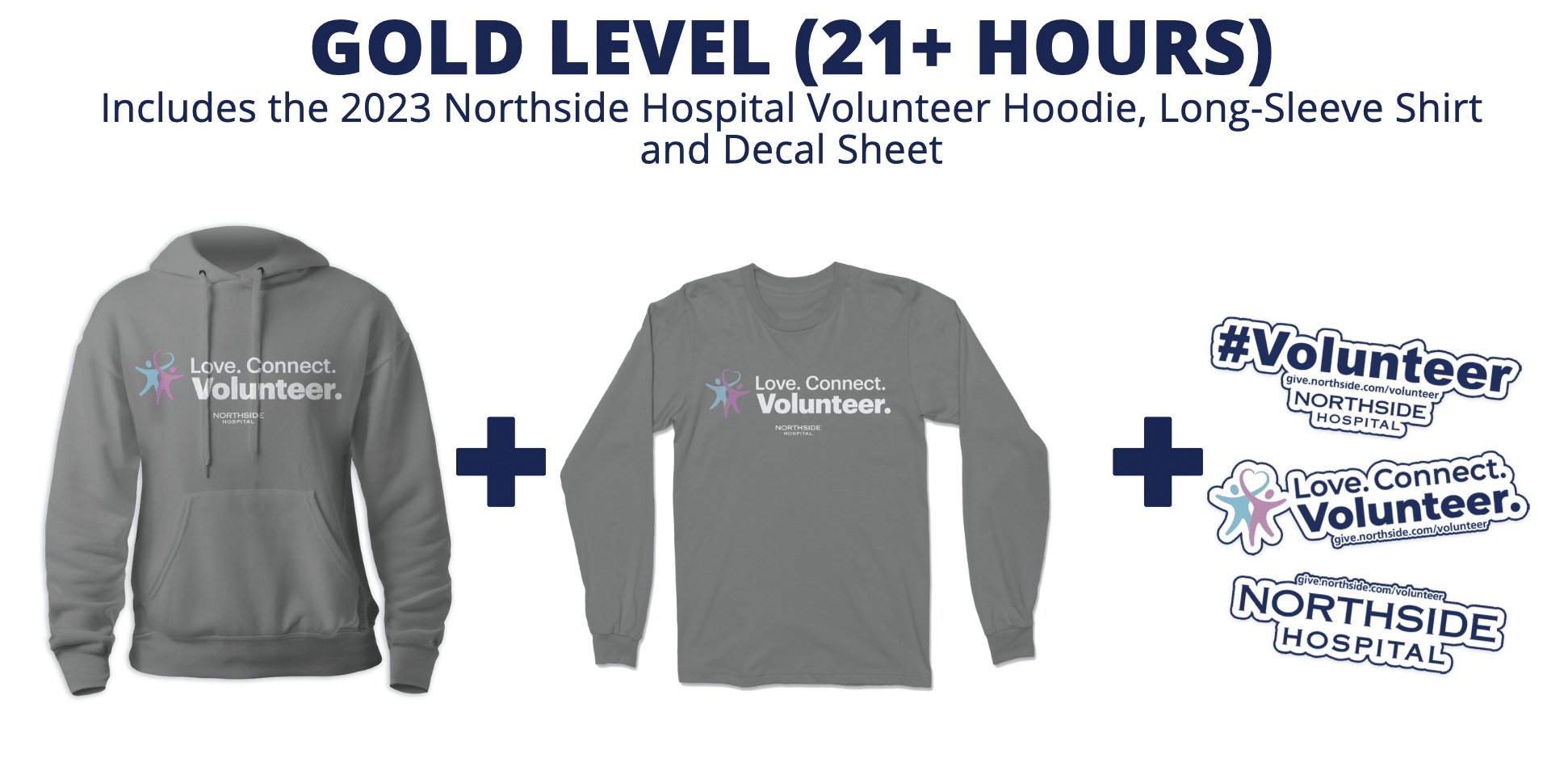 Incentives will be distributed to eligible volunteers in April 2023.
---
We can only recognize hours that are submitted online at give.northside.com/volunteer and submitted paper forms.
Volunteer incentive gifts and level are subject to change each year.